Manufactured Home Financing with Pine View Homes
Are you on a budget but want to own a quality house?
Here at Pine View Homes, we want to help you build your dream house in the most cost-efficient way.
Manufactured homes can be one of the most affordable options for you. It can be economical, flexible, and environmentally friendly.
We prioritize your needs and preferences, allowing you to customize your home. Our role is to ensure that your housing project will not be a pain in your pockets. Continue reading to know how we can support you!
How We Can Help
Whether you plan to buy, complete, or build a home, Pine View Homes is ready to accommodate your needs.
We have helped homeowners in Maine since the 1950s. When you choose to work and trust us, expect us to be very hands-on with your plans. We also make sure that you are comfortable with our team by upholding a culture of first-name basis interactions.
On top of that, we provide affordable home financing options to ensure that you will enjoy a cost-efficient place.
Our Offers
The endpoint is you, sleeping and spending your time under the roof of a high-quality manufactured home. Our passion is to walk you through every step of the way to achieve that. To help you do that, we will assist you with your loans up to the moment you design and customize your home.
Helping You Choose Lenders
Of course, you want what's best for your house, and it must start from the moment you select your lender.
Lenders will provide you with the money and the resources to keep your housing project going. Pine View Homes is not only concerned with providing the best-manufactured homes, but we also want you to have it with the best home buyer financing options.
We want to guide you on your decision by considering the interest rates, loan products, and other fees that you will be responsible for.
Flexible in Working With All Loan Types
To maximize your affordable home-purchasing experience, we want you to know that we work with all loan types. Some of which are:
VA and FHA loans

Turn-Key and End Loans

Home only Loans

Conventional Loans

Construction Loans
The list goes on. What's important is that we are likely open to the kind of loan you need. We want you to achieve your ultimate goal of having the keys to your dream home.
Trading In Your Manufactured Homes
Our services are also open to those who want to trade in their manufactured homes. Whether it's for an upgrade or your needs have changed, we got you! We make the process easier for you by helping you find or level up your new home in Maine.
Design and Locate Your Home With us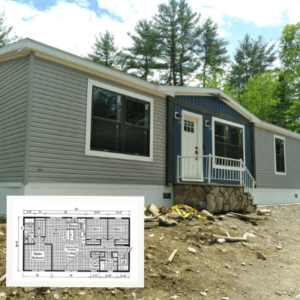 You are the master artist of your own home.
We want to involve you in every process stage, especially in the designing and locating phase. We are here to help you into your dream house at the lowest cost possible. We can also assist you in finding the right location for your home, weighing if it suits your needs and personal preferences.
How Our Contracts Work
Our contracts are created in the best way they can be to answer your needs. You can read about closing costs, the work quotes from vendors, and the terms for customizing your home.
Although our contracts do not include land ownership, we can still help you add it to your home-buying process! You might need a separate contract for it, but we can help you navigate the process.
Final Thoughts
Pine View homes helps you to cozy up in your dream house without financial worries! It is our vision to give you the top modular home financing options. Our team is always ready to support you with your housing needs.
Connect with us now, and let's see how we can help you.