This holiday season, consider giving yourself and your loved ones the gift of a new home. A manufactured home can be a great option for those looking for a permanent residence that is affordable and stylish. 
Here's everything you need to know about buying a manufactured home:
What are the benefits of buying a manufactured home?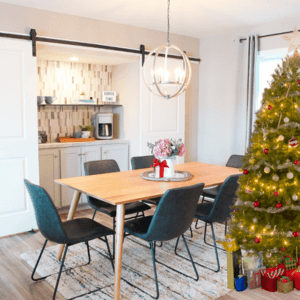 There are several benefits of buying a manufactured home. Some of them are highlighted below:
Reasonably priced
Compare the price of a site-built house of comparable size to the typical cost of a manufactured home, and you'll see a huge difference. Becoming a homeowner can be simplified by purchasing a mobile home. Since mobile homes are less expensive than traditional houses, you may buy more space for the same amount of money. 
Quick setup
Manufactured homes can be built and ready for you to live in much faster than your average new-construction homes. Plus nothing beats watching your brand-new house be lifted up and set atop its foundation. Whether you purchase a home in a manufactured housing community or not, you will be surprised at how quickly you can begin to enjoy your new lifestyle in your house.
Energy-efficient
Manufactured homes are up to code with the HUD Code because they have energy-efficient windows, on-demand water heaters, a belly wrap, and insulated skirting. You can choose to have energy-efficient lighting installed, and modern kitchen and bathroom appliances are built with water efficiency in mind. 
Adjustable features
Customization options are nearly limitless regarding manufactured homes. You'll appreciate the flexibility in creating a just right home for you.
Change the architectural style to your liking, then construct a kitchen that inspires your inner chef, a relaxing bathroom, and bespoke built-ins that make living at home a delight. Personalize a layout that fits your lifestyle with finishes, fixtures, and accessories.
How to find the right manufactured home for your needs
Potential purchasers should know the differences between prefab and modular homes, even if more people choose to make a prefab or modular home their permanent dwelling. If you're considering whether or not a manufactured home is right for you, check out some types below.
Modular Homes
Modular homes are treated equally by lenders and insurers because of their off-site construction. Generally, modular houses are constructed in a factory environment and then shipped to the site for final assembly. Learn more about modular manufactured homes by Pine View Homes here.
Double-Wide Homes
Double wides, also known as two-section homes, are dwellings composed of two separate modules connected to form a bigger structure. Modern double wides are the most popular type of manufactured housing. In fact, many people searching for a primary residence, a retirement house, or a second home choose a double-wide.
Explore the manufactured and modular houses in this link to see all the layout options available from Pine View Homes.
Single-wide Homes
A single-wide, often called a single-section home, is a modular dwelling made of a single, long part instead of several smaller ones. These prefab homes can range from exceedingly compact to extravagant in widths, lengths, and room configurations.
If you're interested in browsing all the options for single-wide floor designs, Pine View Homes have many manufactured homes to choose from, you can see them here.
The process of buying a manufactured home
Here's a look at the process of buying a manufactured home:
Step 1: Financing 
The first process is determining how you will pay for your mobile home. Purchasing your manufactured home includes figuring out how much you can borrow and how much of your own money you'll need to make the purchase.
After having a good idea of how much a mobile home will cost, you should look at your finances. Looking at your annual, monthly, and weekly expenses and income would be best. You should also discuss with the modular home financing department or agent to see what's possible in your budget.
At Pine View Homes, we see many customers who come in to look at our homes, who are unsure about their budget and whether or not they can afford one of our homes. Many times, when they sit down and look at the numbers, they see that owning a home is within their reach and often more manageable than they originally anticipated. If you are in this position, we encourage you to visit us and talk with one of our agents about financing options so you have a more realistic view of how much home ownership will cost.
Step 2: Acquiring Land
You must follow the rules when buying land to set up a mobile home. Verify with the local government to know if there are any rules about how you can use the land. Most of the time, a manufactured home needs a flat, strong surface. Some companies will sell the land with the home or you can use land you already have for your new manufactured home.
Step 3: Pick the Perfect Home
Now it's time to give Pine View Homes in Maine a visit to look at our models and floorplans to find your perfect home. We have lots of models to choose from and many options for customizing your home to achieve your vision. You can view our models online, follow us on Facebook, or visit us in person in Winslow, Maine.
Step 4: Installation 
Once you've decided on a house and a plot of land, the manufacturer will coordinate delivery. You must properly prepare the site for a manufactured home's installation to go well and look its best. You can discuss what this means for your particular site with your agent.
How to finance your new manufactured home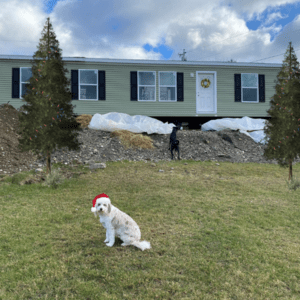 You must provide proof of your income, expenses, and assets to apply for financing. Also, you might need confirmation of two years of work experience, ideally in the same position. Lending possibilities can vary based on how much down payment you can make and how much you want to spend on the manufactured house you want.
With the assistance of reliable, knowledgeable financing officers, purchasing a property is a manageable task. Pine View Homes is committed to providing outstanding customer service to each of its customers and making sure they have the tools they need to make smart, informed financial decisions.
Are there any in-house financing mobile homes near me? Pine View Homes is located in Winslow, Maine and we are proud to offer a variety of financing options through certified lenders. Learn more about financing here.
There's no place like home for the holidays
The holidays are when you can finally unwind and spend quality time with your loved ones. It's a time to celebrate traditions passed down through the ages while making golden memories that will last a lifetime.
During this Christmas season, provide your loved ones with the gift that will last for countless years to come. Celebrate the holiday and ring in the new year in your brand-new manufactured house by the next holiday season!
Pine View Homes, Inc. is a locally owned, operated, customer-focused and dependable home-building and remodeling company dedicated to finding the appropriate new or pre-owned house that's right for you. Pine View Homes is ready to take your call at (207) 872-6259. You can visit us at 499 Augusta Rd, Winslow, ME 04901.