Pine View Homes; Custom Manufactured Homes
See Our Exclusive Customizable Features!
Pine View Homes, Inc. is a family-owned business, offering custom manufactured homes and has been operating for over 65 years. Located right in Winslow, Maine, the Pine View Homes, Inc. team is personable, dependable and knowledgeable, making finding your new perfect home easier than ever! The team at Pine View Homes, Inc. is passionate about helping you transition smoothly into your new home and ensure all of your needs are met. Pine View Homes, Inc. stands apart from other modular home dealers in Maine because we form a lasting relationship with the client. We believe the home-buying process should always be a positive, memorable experience.
This blog highlights some of the many customizable options we feature in our homes.
We offer top-of-the-line modular homes and custom manufactured homes. We carry a handful of models, which are customizable to your desired specifications! Modular homes are manufactured in climate-controlled facilities and are assembled right on site. All of our modular home prices include a setup fee, a crane rental charge, delivery within 75 miles of our sales lot, and finished basement stairs.
Liberty Series – The Langdon 28 x 56 is a unique, modern modular home featuring a 60# roof load, stainless steel appliances, linoleum throughout, and an optional fireplace! View The Langdon here!
Our Eagle River JN – M48J035 28 x 48 utilizes natural light and an open concept to provide a welcoming environment with a retro style. View our model home for design inspiration or to set up an appointment to learn more. This model is available in gas or electric. Our other model Eagle River JN – M52J738 – PA 28 x 52, is a more modern build, featuring two spare rooms including a master room and bath. Take a look at our M52J738 model here. As a reminder, colors may vary from the ones shown in our photos or videos as manufacturers change out decor options regularly.
Are you looking for a comfortable and affordable new home? When searching for a new, custom, manufactured home, there are a few important things to note. You want to choose a reputable company that you know you can trust. Pine View Homes, Inc. has been selling custom manufactured homes in Maine since 1955. Ensure your new home comes with quality features, our double-wide homes feature a 40-pound roof load and insulated R-Co skirting installed. Our double-wide homes also come with a one-year manufacturer warranty, as well as an additional 10-year structural warranty. Here are some of our favorite double wide homes:
Our Eagle River Catrina 28 x 58 has a 40# roof load, a full six-foot porch, a walk-in pantry, and a 60″ walk-in shower. The Eagle River Catrina has beautiful ash gray cabinets throughout for a relaxing feel. This custom double-wide is available with an oil or gas furnace. Take a deeper look here.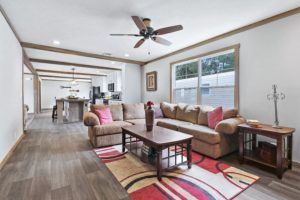 The Clayton Nellie 28 x 76 is a stunning home filled with natural light and a welcoming atmosphere. This custom double-wide features four bedrooms, walk-in closets, and an option for a Victorian bath. The Clayton Nellie home provides a lot of open space and plenty of room for entertaining you can see here. Make this home unique with dormers, and other custom features.
Another favorite, the Eagle River Eagle's Nest 56J600 28 x 52, is a beautiful double wide with many customizable features. We added a modern touch, with appliances such as a euro hood over range, a pot filler faucet, a built-in entertainment center in the living room, as well as backsplashes featured in the bathrooms. View this one-of-a-kind build and its unique additions here.
Our single-wide homes are beautiful, comfortable living spaces, perfect for a small family or couple. All of our single-wide homes are available for a custom order and any additional customizations. We want you to love your new home!
Our Clayton Sapphire 16 x 66 is a new 2021 model. This signature double wide features an oil or gas furnace, an electric or gas stove as well as three different color options for the appliances being white, black, or stainless. Take a look at the Clayton Sapphire here.
The Clayton Diamond 16 x 76 brings that country feel right to you! The Iron Mountain Pine package features beautiful hardwood floors and unique accents that really make the Clayton Diamond feel like home. As always, all of our homes are available for customization!
Pine View Homes, Inc. has been manufacturing custom homes since 1955. It is our duty to keep our customers satisfied and comfortable on their journey to finding a new home. We intend on making the home buying process a memorable experience for all of our loyal customers. With modular homes, double-wides, and single-wides, there is sure to be a home to fit every lifestyle! Trust Pine View Homes, Inc. to help your transition into your new home go as smoothly as possible. Contact us today!